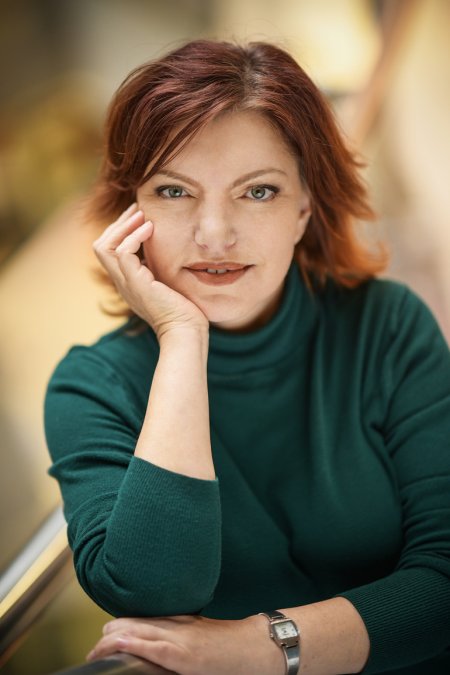 In our new episode, a critically acclaimed, bestselling novelist Alena Mornštajnová talks to Julia Sherwood, a renowned translator, about her gripping novel HANA, which has won the Czech Book Award 2017 and has been translated into over a dozen languages across the world. The book is coming to English readers thanks to Parthian Books on 1 October 2020.
Based on real events and set in Mornštajnová's native town Valašské Meziříčí, it tells a story of nine-year-old Mira and her aunt Hana.
It's 1954 and nine-year-old Mira's life is about to change forever. After a typhoid outbreak rages through her town, robbing her of her parents and siblings, the orphaned child is forced to live with her mysterious, depressive aunt Hana, a figure both frightening and fragile. Gradually, Mira uncovers the secrets of their troubled family history and begins to understand why her aunt is so incapable of trusting herself and the world around her.
Deftly weaving two separate timelines, the harrowing reasons behind Hana's reclusive way of life, the guilt she wears as palpably as a cloak, and the tattoo on her wrist, are revealed to Mira.
Alena Mornštajnová is a teacher of English and translator and author of five successful novels. Her most recent novel, Tiché roky (Years of Silence, 2019), has confirmed her position as a critically acclaimed, bestselling novelist with more than 400,000 copies of her books sold in the Czech Republic alone. Rights for her most successful novel Hana have been sold to thirteen countries: United Kingdom, Austria, Italy, Poland, Bulgaria, Macedonia, Slovenia, Hungary, Croatia, Slovakia, Latvia, Syria and Greece.
Julia Sherwood is a freelance translator from Slovak, Czech, Polish, Russian and German into English (with Peter Sherwood), as well as into Slovak. In addition to book-length publications, her work has appeared in Two Lines, BODY. Literature, The Missing Slate, Words Without Borders, OpenDemocracy, Eurozine, Aspen Review and salon.eu.sk. She is editor-at-large for Slovakia for Asymptote, the international online literary journal, administers the group Slovak Literature in English Translation and co-curates the website SlovakLiterature.Com.